American Jezebel by Eve LaPlante
Library of Congress Center for the Book Initiative Highlights Books Along the East Coast
For the third consecutive year, Rhode Island Center for the Book will participate in the Route One Reads initiative, a program under the Center for the Book in the Library of Congress. In 2017, the theme of the initiative is memoirs and biographies, and the book selected to represent Rhode Island is American Jezebel by Eve LaPlante.
The diverse reading list created by Route One Reads highlights each individual State Center for the Book while celebrating the East Coast as a whole. By participating in Route One Reads, readers can travel across 15 states and the District of Columbia without taking a single footstep or load selected books into the car for a literary road trip. The full list of featured books for the 2017 Route One Reads initiative is available along with a map of participating states at Route1Reads.org.
About the Book: Written by one of Hutchinson's direct descendants, American Jezebel brings both balance and perspective to Hutchinson's story. It captures this American heroine's life in all its complexity, presenting her not as a religious fanatic, a cardboard feminist, or a raging crank—as some have portrayed her—but as a flesh-and-blood wife, mother, theologian, and political leader. The book narrates her dramatic expulsion from Massachusetts, after which her judges, still threatened by her challenges, promptly built Harvard College to enforce religious and social orthodoxies—making her the mid-wife to the nation's first college. In exile, she settled in Rhode Island, becoming the only woman ever to co-found an American colony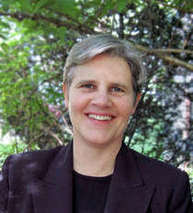 About the Author: Eve LaPlante, a sixth great-granddaughter of Samuel Sewall, is the author of two critically acclaimed books: American Jezebel, a biography of her ancestor Anne Hutchinson, and Seized, a narrative portrait of temporal lobe epilepsy. LaPlante has degrees from Princeton and Harvard and has written for The Atlantic, the New York Times, Ladies' Home Journal, and Boston magazine. She lives with her family in New England on land once owned by Judge Sewall.
New York Times review of the book
Route One Reads is a partnership between the Center for the Book in the Library of Congress, and its affiliates in: Connecticut; Delaware; Florida; Georgia; Maine; Maryland; Massachusetts; New Hampshire; New Jersey; New York; North Carolina; Pennsylvania; Rhode Island; South Carolina; Virginia; and Washington, D.C.